So, a few months ago, I did a piece about booth babes. To recap it was about how the idea of a booth babe could be vastly improved by gender equality, providing them with ample information about your product and costume relevancy (legitimate photo ops).
This year, when I wandered into PAX, I ran into not one, not two–but MULTIPLE instances where Game companies seemed to take this advice and run with it. Now there were some violators of the 'no booth-babe' policy *cough* NOS Energy Drink Booth*cough* but I want to focus on the positive of this convention.

BioWare, Star Wars: The Old Republic
As if I needed further reason to fangirl over Bioware anyway, when I moseyed over to the Bioware booth, I was greeted by none other than patrolling storm troopers and fighter pilots and jedis–oh my!

It took a minute to realize these were not merely cosplayers but people actually assigned to patrol and flit (horrible term, I know, but the imagery of a sith flitting makes me giggle) about the Old Republic booth. I took a picture of one of the pilots and squeezed my way over to the nearest storm trooper. I held up my media badge in a way that would make every detective show proud and attempted to talk over the cacophony of the Expo hall. "Are you allowed to talk?"
"Very little."
Unsurprisingly, these fantastically costumed Star Wars fans were none-other than the 501st Legion. They had been hired on by Bioware to act as environment for the booth. Their role was to stay in character and draw attention to the booth by posing for photo ops etc. As a result, they were given very little information about the game itself. As cool as it would be to have a storm trooper brief me on the finer points of this MMORPG, I was perfectly content with them pointing their guns at me and telling me to move along to the back of the line.
EA Games, SSX

EA games provided two lovely spokes-models (Sorry ladies, the picture was too blurry to publish!) who, though may not have been hard-core gamers, had the bragging rights of snowboarding since they were in their early teens. These women were not only familiar with the game series itself, they had spent two weeks playing SSX and being briefed on as much information as possible. Congrats, EA, this is how you properly prepare someone to work at your booth.
Irrational Games, Bioshock Infinite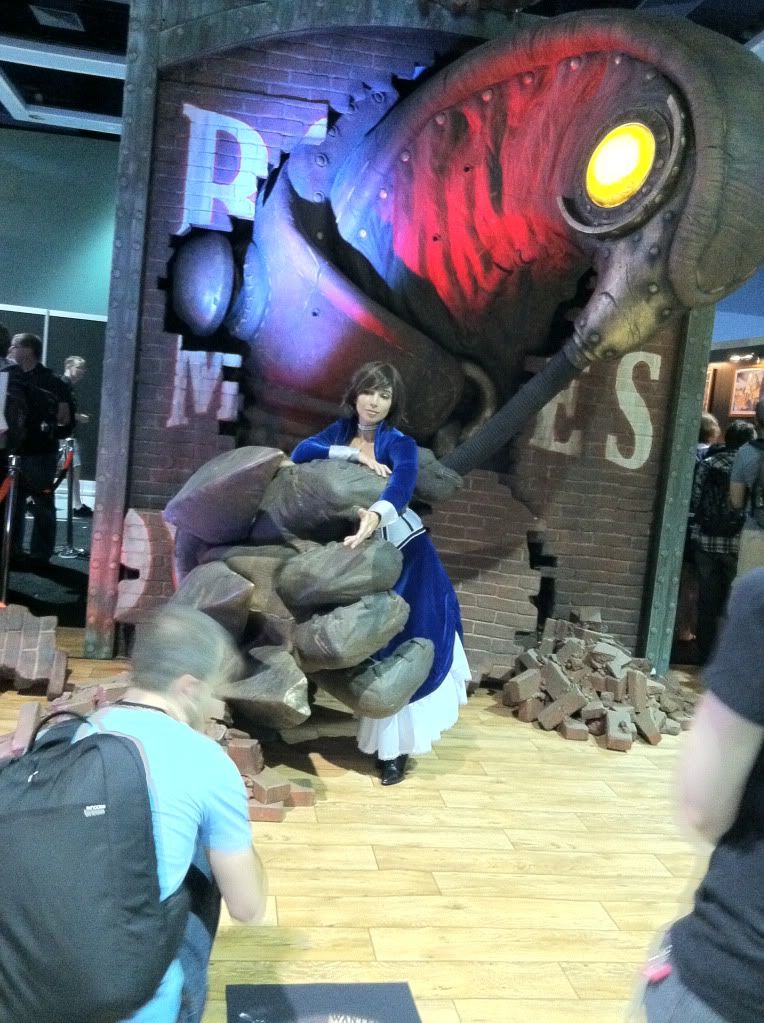 Irrational games sadly didn't have any actual demos available of the latest installment of the Bioshock series, but they did however have what was probably hands down the most epic photo-op set-up at the entire convention. (Yes, the Assasin's Creed one was also quite fantastic but it didn't require the same amount of craftsmanship. Sorry guys, physical set beats green-screen in my world.)
I had the pleasure of speaking with Sarah Rosa, the Executive assistant to the creative director and resident cosplayer. Sarah was the brains and hands behind the amazing Elizabeth costume (pictured right). Sarah informed me that the model was hired through an agency, provided with the costume and essentially was hired to pose for the camera in character. Seriously, Devs, that's all it takes. Look how amazing it came out. She didn't really have to know diddly squat about the game. Still a valid marketing tool: genuine game-related photo-ops.
Sega, Aliens: Colonial Marines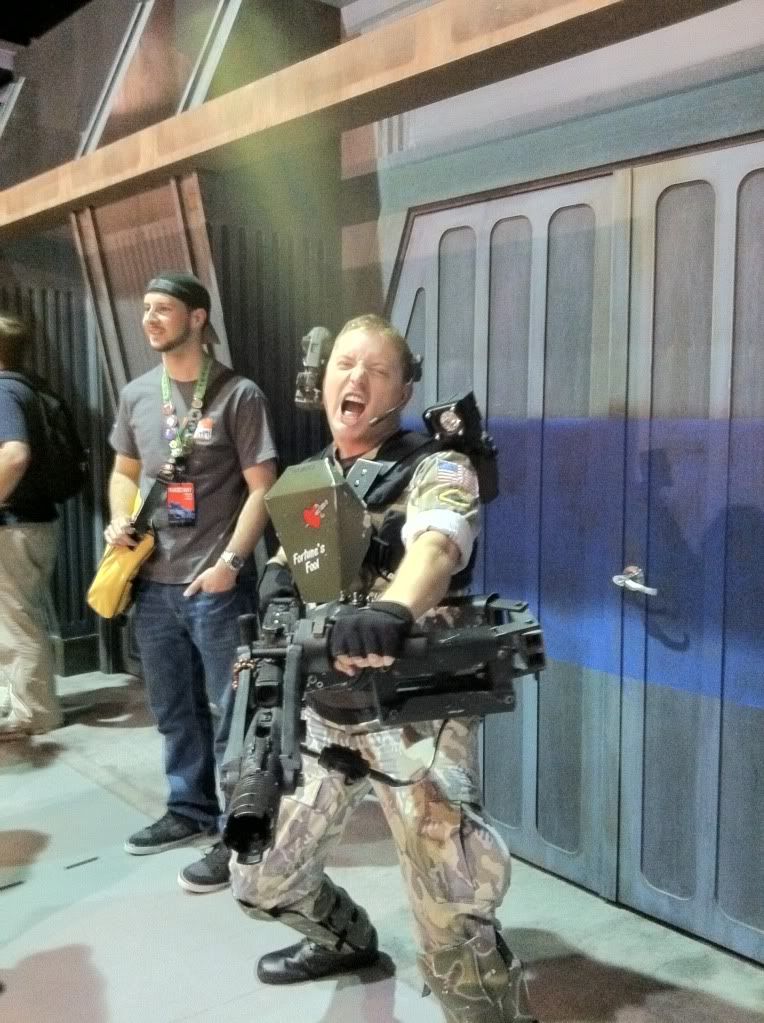 The company however that really took the cake this year when it comes to "booth babes" was Sega, hands down. I passed that booth countless times, thinking some awesome cosplayers were waiting in an extraordinarily long line–not an uncommon sight at PAX.
But as I passed again on Sunday and noticed that they were still there it occurred to me these weren't just fans. I spoke with Sean Maio (pictured left) to get the story. Fan group turned professional, The Aliens Legacy was originally recruited by the community manager for Sega of America in early 2010 to promote Alien Vs. Predator at the Major League Gaming finals. Sean Maio as well as Chris and Angie Duplis first began as volunteers–wearing their costumes at the table and were provided with VIP passes, food and gas money. Pretty sweet deal, right?
Well, then it got better. The following year they were contacted again but were required to sign an NDA before they were provided with any information. Turns out Sega wanted them to costume for the unveiling of "Aliens: Colonial Marines" at E3 and was giving them the heads up a few months in advance.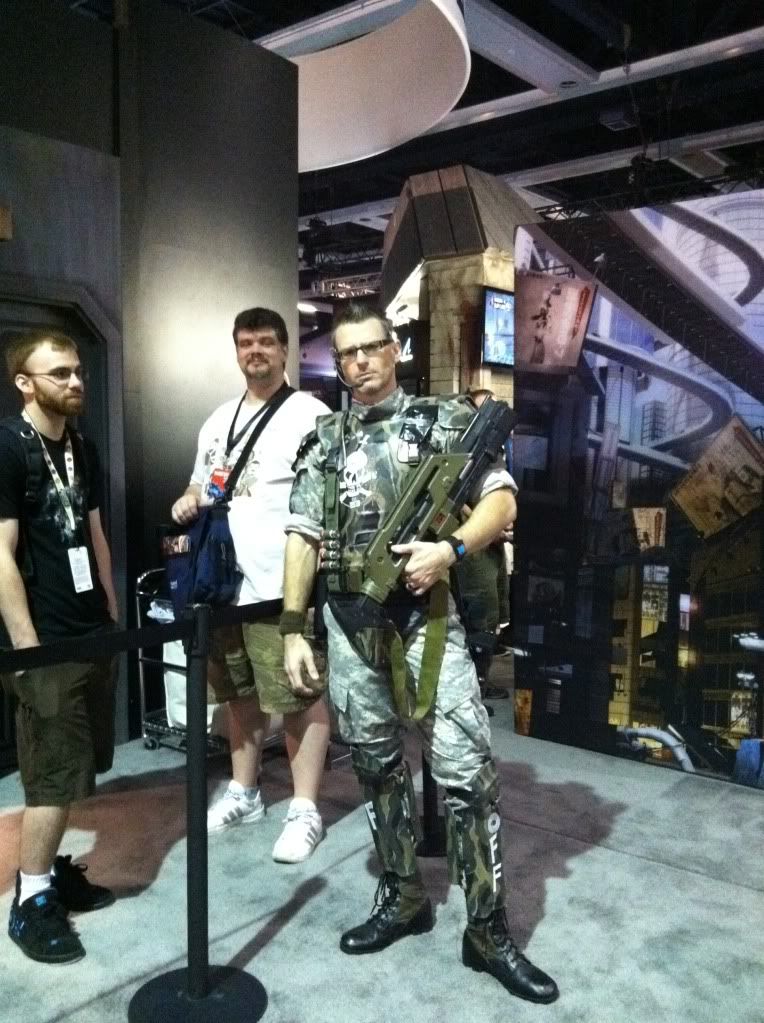 Not being able to talk about the project was described as excruciating. However the group was not only more than capable at keeping their NDA, but were so well received that they were invited back again for presenting at Pax Prime 2011.
"Here we are just kinda living the dream basically," said Maio. "We're just a bunch of fans of the movies who happened to make costumes because we like it so much and got spotted by Sega! We're now getting paid and taken on all-expenses-paid trips to do something that we just do for fun."
Seriously Sega, my hat is off to you. Well done.
And as for Sean Maio and Chris (pictured right) and Angie Duplis? Congrats. I don't know a single cosplayer that wouldn't love to snag a deal like that for their own respective fandoms.
As a final note, I'd like to do one last shout-out to an amazing cosplayer that you may remember being featured in my last article about Booth Babes. I happened to run into Commander Shepard at Pax Prime… Understandably, she wasn't in the mood to talk to press. Thankfully she realized just in time that I wasn't Khalisah al-Jilani.